Jurassic World: Dominion Dominates Fandom Wikis - The Loop
Play Sound
"WHEN TH1S T1MER REACHES ZER0, A T0N 0F TH1NGS W1LL HAPPEN AT 0NCE ALL ACR0SS REAL1TY, ALL PERFECTLY SYNCHED UP T0 F0RM AN EVENT THAT 1'VE G1VEN A C0DENAME T0. THE EXECUT10N."
—Bill Cipher, Destroy the Godmodder 2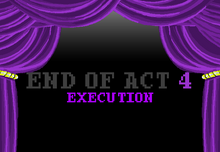 The End of Act 4 of Destroy the Godmodder 2 was titled Execution. It depicted the event known as The Execution. It was a series of six storyposts posted on August 22nd, 2015 (page 1,332 of the game).
Execution showed the conclusion of most of the plotlines of DTG2, culminating in the Execution itself. The Execution was a series of events all happening at the same time across different universes of Fiction. It showed the destruction of the Trifecta: both the bonds keeping the three universes together and the universes themselves. It also showed the beginning of the Conflict's reformation and the death of the Secret of the Void, which was carried out in both GodCraft and Limbo.
Important events that occurred during Execution were the beginning and duplication of the Godmodder's Shatter, the awakening of the Shadow, the death of Project Binary, Bill Cipher giving the Homestuck Kids a way out of their session as it was destroyed by a black hole/the Scratch, the Red Sun's creation, Earth's universe being destroyed by Project Artemis, the Conflict challenging and killing the Secret of the Void in Limbo, the completion of the lock keeping the Red Dragon in Limbo, the reveal that Flumpty Bumpty had escaped Limbo, and the formation of a black hole threatening to destroy Minecraft.
Execution left off on several massive cliffhangers that would be addressed by the conclusion to DTG2, Act 5.
List of Chapters
Execution is split up into 1 chatlog and 6 cutscenes.
Chatlog 1 - We Have Already Won (Page 1,332)

"WE C0NV1NCED 0URSELVES THAT WE HAD N0 CHANCE AT L0S1NG BECAUSE WE ACTUALLY D0 HAVE N0 CHANCE AT L0S1NG. WE HAVE ALREADY W0N."
In which Bill rejects help and the Employer tells it like it is.

Cutscene 1 - Color and Mayhem (Page 1,332)

In which a shatter is split, a shadow is cast, a conflict reforms, and a cancer is cured.

Cutscene 2 - System Reset (Page 1,332)

In which a scratch is completed, a deal is made, a game is over, and a miracle is created.

Cutscene 3 - Project Artemis (Page 1,332)

In which a tower is raided, a project is revealed, and a planet is destroyed.

Cutscene 4 - Greatest of Secrets (Page 1,332)

In which a secret is called, a lock is constructed, a conflict is fought, and a dragon is executed.

Cutscene 5 - A Sentient Egg (Page 1,332)

In which an egg is dead, a spice is eaten, and a gate is opened.

Cutscene 6 - Event Horizon (Page 1,332)

In which in which in which in which in which in which in which in which.